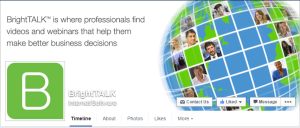 Have you seen any brand pages on Facebook with the new "timeline" layout? You've probably noticed this new design on a number of personal profiles pages on Facebook. The social giant has decided to extend this layout, which focuses more on a chronological progression than an accumulation of various posts, to brand pages, giving companies a new way to engage with their audience and represent themselves visually.
What does this mean for B2B brands? Outlined below are a few of the changes B2B brands can leverage to enhance your social marketing motions with a more dynamic user experience.
1) The timeline format – The timeline structure enhances a brand's ability to tell its story. Although the old format allowed users to see when content was posted, the organization of content in the new timeline format emphasizes the history of a company. Brands can now visually represent important dates, milestones and promotions in a clean, chronological fashion. B2B brands, in particular, can use this feature to highlight product releases, investment rounds closed or new partnerships.
2) Pinning content – A second feature unique to brand timelines is the ability to pin a certain piece of content to the top of the timeline. Brands can direct its visitors to important messages or featured content without having to repost it. This feature provides companies the ability to highlight new webinars or blog posts, recent news, or product updates quickly and easily.
3) Cleaner look – The biggest visual change to the brand pages is the cover photo, which expands the amount of space brands can customize with their own design. Extend your brand throughout the expanded visual space by using your brand elements to provide context to the entire page. The new timeline pages will also consolidate tabs into a single section to make them easier to find. These tabs can be customized and reordered to highlight new content or showcase a contest or giveaway.
4) Private messaging – Until this point, brands have not been able to privately message users, which limits a company's ability to engage with their audiences on an individual level. The new brand pages allow you to reach out and interact with consumers independently. This new feature is very useful for inquiries, customer service issues and other messages that are more private in nature. It also enhances the company's ability to interact and engage with its customers on a more intimate level.
Check out BrightTALK's page on Facebook and hit the "like" button if you like its new look. Brand pages automatically transition to the timeline layout at the end of March. How will you be adapting your profile?